Quotidian Bodies 2019 to 2023
A ongoing series of nudes exploring and celebrating the diversity of the human body.
Subjects responded to call outs on various social media platforms. All images are anonymous to encourage people to come forward from all walks of life.
No castings were made for the series.
All where welcomed!
A series of imagined genders. The body digitally manipulated to explore the possibilities of gender in a non binary world. Large scale prints with silver leaf and black ink.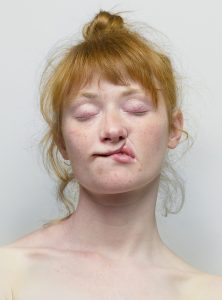 Closer to God 2010 to 2016
A series of large scale nudes of people with deformed faces. The series seeks to question what we consider to be beautiful while undermining the photographs claim on authenticity.